1. On which island does the last King of Ireland live?
If you thought there was no more Kings in Ireland you'd be mistaken as the last one is alive and well and waiting to greet visitors to his kingdom! The tradition of appointing a king of Tory Island dates back to the 6th century and the ancient custom is going strong today. The current king Patsy Dan Rodgers has held the crown for 20 years. As king he acts as an ambassador for the island, welcoming visitors and entertaining tourists at night with stories and song.
2. What unusual animals calls Lambay Island their home?
Lambay Island has one of the largest seabird colonies in Ireland. It's home to fallow deer, grey seals and most unusually wild red-necked wallabies! The wallabies were first introduced to the island in the 50s and 60s when the eccentric island owner brought them and other exotic animals over. More were introduced in the 80's from Dublin Zoo when their population had grown too rapidly. The wallabies who were more familiar with the hotter climates of Australia have adapted well to their island life by growing a thick fur coat.
3. What mode of transport brings you from the mainland to Dursey Island?
Dursey Island is a small island off the Beara Peninsula, West Cork with only a handful of permanent residents. The island is connected to the mainland by Ireland's only cable car. The cable car opened in 1969 and now plays a vital role in getting to and from the island.
4. Sailors would often carry pebbles from Scattery Island - why?
Saint Cannera was the patron saint of sailors and lived on Scattery Island. Irish sea captains and sailors of old would carry pebbles from Scattery Island believing that they would keep them safe from shipwrecks
5. Which island was Ireland's answer to Alcatraz?
Spike island is relatively small island with a big history. It's best known for being an island prison, earning it the name "Ireland's Alcatraz". Dating back to Cromwell's time it was a site for holding prisoners but during height of the Great Famine Spike Island became a full scale prison. It was used as a convict depot, used to house prisoners before they were deported to Australia. From 1847 to its closure in 1883 thousands were imprisoned on the island.
6. During World War 2 Ram Island was used as a base but for what?
Rams Island is a small island on Lough Neagh. During the Second World War Sandy Bay in the shelter of Rams Island became the site of a USAAF flying-boat base. There was 12 moorings and navigation buoys were laid to the north and south of Rams Island guide the flying boats and marine crafts. Materials for the war effort were flown in daily to the base at Sandy Bay.
7. What famous musician bought Dorinish island off the coast of Mayo?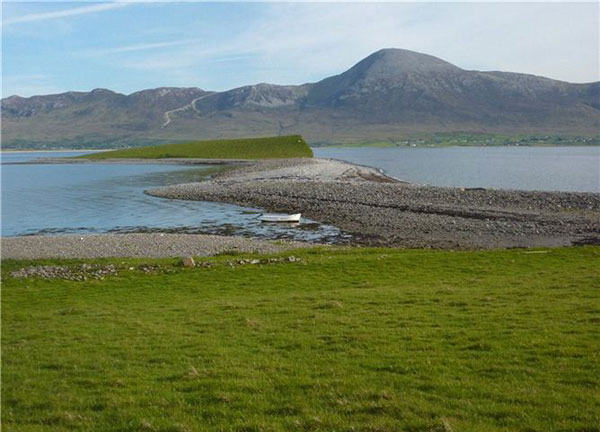 John Lennon bought the island in 1967 for £1,700, sadly he only got to visit the island a handful of times. In 1970 he invited the King of Hippies Sid Rawle to establish a commune on the island, which lasted about two years. After Lennon died Yoko Ono sold the island for nearly £30,000 and donated the proceeds to an Irish orphanage.
8. What is Ireland's most westerly Island?
Tearaght Island is the westernmost of the Blasket Islands. It's name comes from the Irish word an tiaracht meaning 'the westerly'. A lighthouse was established in 1870 and automated in 1988. The island is now uninhabited and featured the steepest funicular rail track in Europe.
9. What is unusual about the lighthouse on Rathlin Island?
The West Light is one of three lighthouses on Rathlin Island. What is unusual about it is that it is an 'upside-down lighthouse'. It was built between 1912 and 1917 at the top of Kebble Point. The cliff was too high for the light to be effective so it had to be placed some way down the cliff, making the lighthouse upside down!
10. Which of these is not a fictional Irish Island?
There are actually two Rabbit Islands, one off Cork and a private island on Lough Corrib in Galway that you can rent for out for a week of peace! All other islands are fictional. Rugged Island was home to Father Dick Byrne and Cyril Mc Duff, Ted's rivals in Father Ted, Hy-Brasil is the vanishing island said to appear off the west coast of ireland. Tír na nÓg, the land of youth is a supernatural realm of everlasting youth.
Irish Islands Quiz
Mainlander
Ah sure you gave it go!
Island Hero
You are wise and we are impressed!
True Island Legend Wow!
Even we didn't know all the answers!