Maritime Heritage Weekend 2018 will take place in Rosses Point on the weekend of 19th – 21st October, comprising of a series of talks from an assortment of historians, archaeologists, sailors and explorers in the atmospheric setting of Harry's Bar.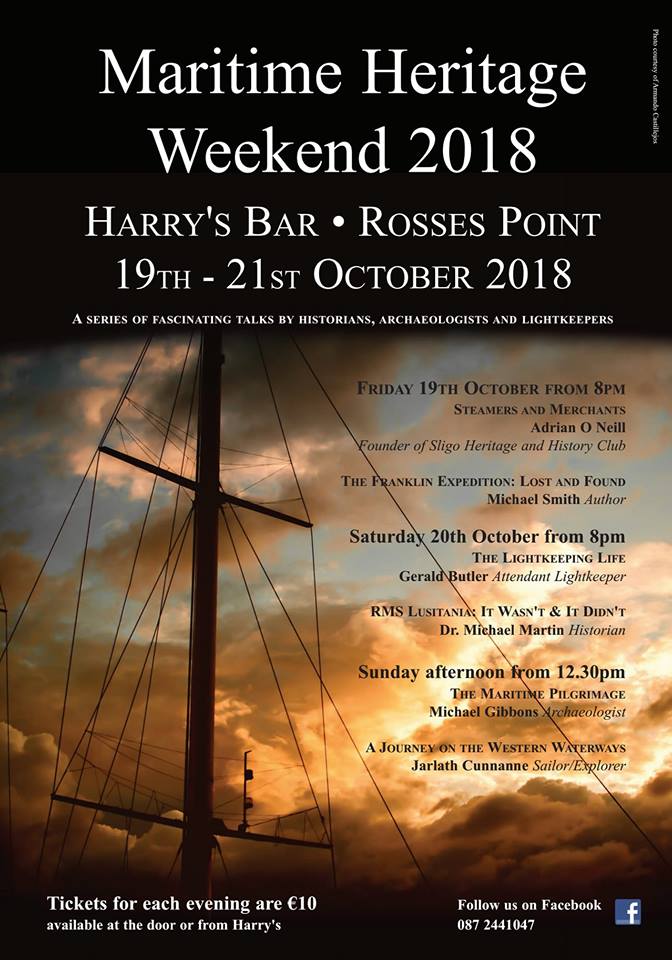 Adrian O'Neill is the founder of Facebook's Sligo History and Heritage Club. He will talk about the paddle steamer passenger service between Doorly Park and Dromahaire, the merchant William Pollexfen, his marriage into the family of seafarer and smuggler William Middleton, their joint milling company and the subsequent founding of the Sligo Steam Navigation Company.
Author Michael Smith will give an authoritative talk on the biggest disaster in the history of polar exploration, the loss of the Franklin Expedition to discover the Northwest Passage. Two well-found vessels and 129 men set out for the Arctic in 1845 and were never heard from again; Michael will tell us about the expedition and how the recent discovery of both ships high above the Arctic Circle may produce evidence to explain the mystery of their disappearance.
Irish Lights Keeper Gerald Butler's unique way of life came to an end with the automation of lighthouses in the 1990s. His talk will include stories of his childhood at a working lighthouse, his 21 years of service, and the hardship, bravery, adventure and, occasionally, the boredom of the life of a lightkeeper.
After a distinguished career in the Naval Service, Dr. Michael Martin founded the Titanic.ie historical walking tour company. Michael has published several historical titles, including one dealing with the sinking of RMS Lusitania, and his talk will explain the background to that particular voyage and the possible reasons for her being regarded as a legitimate military target by the Germans.
Michael Gibbons is one of Ireland's leading field archaeologists with over 30 years' experience. He will speak about some of our most important Maritime Pilgrimage Traditions, including Skellig Michael World Heritage Site, St Macdara's Island and Caher Island.
Friend of Maritime Heritage Weekend, sailor, explorer, adventurer Jarlath Cunnane makes a very welcome return with an illustrated talk on Inland Western Waterways.
Tickets for each evening/afternoon are €10 or weekend tickets are €25 and will be available at the door or from Harry's Bar, Rosses Point. Follow their Facebook page for more information.