HMS Audacious – Stuck a mine and sank off Donegal, Ireland – 27th October 1914
HMS Audacious, built in 1912, was a King George V-class battleship and formed part of the Second Battle Squadron of the British Grand Fleet of the Royal Navy.
While the vessel never got to actively engage in combat she briefly served as a wartime anchorage for training and gunnery practice before being stuck by a mine off the northwest coast of Ireland in 1914.
On the 24th October 1914 while on exercises on the north west coast of Ireland she struck a mine laid by the German auxiliary minelayer Berlin. Several compartments including the engine rooms became flooded and the crew quickly abandoned ship and the vessel began to sink.




Despite the serious damage inflicted by the mine and the subsequent sinking of the Audacious, there was loss of life was limited to one unfortunate soul.
Three ships, RMS Olympic, HMS Liverpool and HMS Fury were quick on the scene and picked up the crew. They then attempted to tow the Audacious back to Lough Swilly but were repeatedly foiled as the tow lines snapped in the heavy seas and the ship sank close to where it had been struck.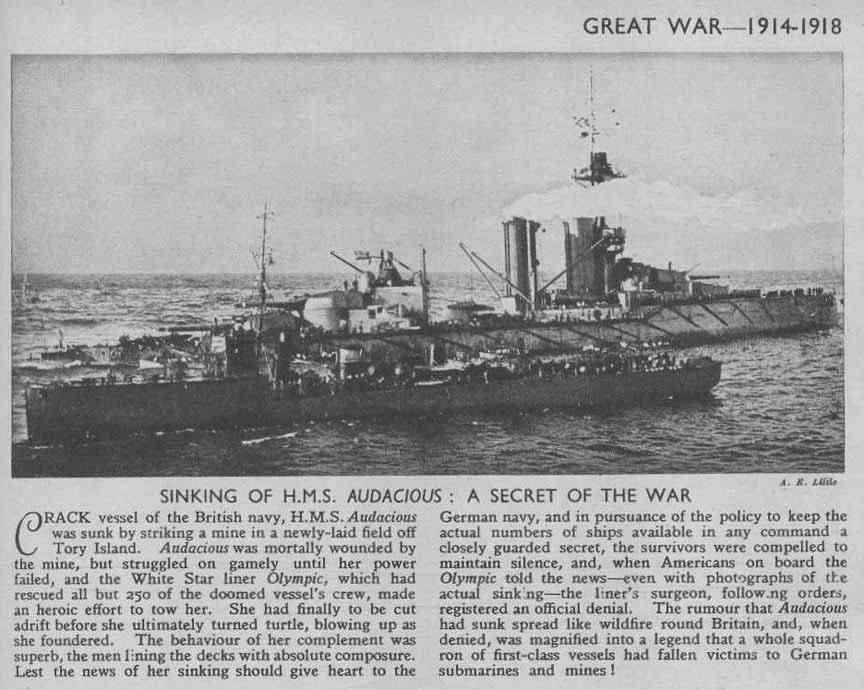 After the loss of the Audacious, the Royal navy tried to keep the whole incident a secret. However this badly backfired. While all the survivors were ordered to keep the event a secret, consistent with their policy of keeping actual ship numbers a mystery to the Germans, rumours inevitably spread. This invariably resulted in a magnified legend that a whole squadron of first-class vessels had fallen victim to U-Boats and mines. Certainly not the outcome the navy wanted!
The site of the wreck, 18 miles northeast of Tory Island Co Donegal, has become a favourite diving location for expert divers. The ship lies at a testing 66 metres below the surface and requires special training and equipment to withstand the pressures and challenges at these depths. Last year a Dutch diver got into trouble when diving at this site when he developed compression sickness. The man was airlifted to safety and has since fortunately fully recovered.