Culture Night has become the biggest annual celebration of all things culture in Ireland.
On Friday 16th September across the country thousands of free events will be held to celebrate the best of our culture; from music, dance, theatre to our history and heritage. With so many diverse events happening, we've made it easier for you by picking the best events that have a coastal or maritime flavour.
*We do advise booking early because these events always fill up fast!*
---
1. Boat trip to Lough Oughter Castle, Cavan
Spend a while at Lough Oughter in the company of Cavan Canoe Centre with a tour guide to take you on the short boat trip from the shore of lough Oughter to the Island. Members of Killeshandra Comhaltas lead by Enda McDermott, banjo, will play tunes as you hear of heroic deeds, bravery and poison!
BOOKING ESSENTIAL (a complimentary bus will leave the Courthouse Cavan at 6pm sharp and will return to the Courthouse at 8.30pm) The tour can be joined at the lake but places must be pre-booked. This trip is weather-dependent and should adverse conditions prevail will be cancelled.
Click here for more information
---
2. The Customs House, Dublin
The opening of the visitor centre at the Custom House is part of a longer term project to provide public access to one of the finest buildings in Dublin in the context of the Decade of Centenaries. The Custom House which has been a Dublin landmark for over 200 years was the architectural masterpiece of James Gandon. It was completed in 1791 after ten years of construction. The four main elements of the exhibition are:
1. Met Éireann's weather-themed exhibition has a special focus on the weather of Easter Week 1916 and the weather on 25 May 1921, when the Custom House was attacked.
2. 1916, including the story of some Custom House staff dismissed for participating in the Rising, statements of prisoners detained in the Custom House after the Rising, and activity in the area during the Rising.
3. Architect James Gandon and the construction of the Custom House.
4. The Custom House Fire 1921, covering the events of 25 May 1921 and the subsequent restoration.
Click here for more information
---
3.  James Joyce Museum, Dublin
The James Joyce Museum extends its hours to 10 pm for Culture Night and volunteer staff will provide guided tours throughout the evening. Groups of up to 25 will be accommodated on each tour, which includes a visit to the top of the tower. James Joyce lived in the Tower in 1904 and made it the setting for the opening ofUlysses. It is now a museum devoted to his life and work.
Click here for more information
---
4. Maritime Museum, Dun Laoghaire, Dublin
The collection of artefacts relating to Ireland's colourful maritime heritage is on display in a mid-18th-century church, formerly used by the seafaring community of Kingstown (now Dún Laoghaire). The marine environment, the people and the ships come alive through objects, pictures and stories. Old and new technology can be seen and explored by young and old alike. The many tragedies around the island of Ireland are vividly recalled. Student tours and groups are welcome to listen to the stories told by our volunteer guides. There is a Coffee dock and souvenir shop.
Click here for more information
---
5. Currach racing on the Liffey, Dublin
Currach and naomhóg racing on the Liffey, music and sean-nós dancing on Sean O'Casey Bridge.
Click here for more information
---
6. Waterways Ireland, Dublin
Exhibition of photos documenting the journey of Connemara fishermen who sailed across the waterways from Ringsend to the Shannon in the 1950s. Glórtha Uladh will sing songs from the province and you will also have the chance to give sean-nós dancing a go!
Click here for more information
---
7. Meitheal Mara, Cork
Come and see Cork from a new angle! Take a trip on the River Lee aboard Meitheal Mara's rowing longboat Fionnbarra from Custom House Quay; see what it's like underneath Michael Collins' and Brian Ború Bridges, or travel downstream, depending on the tide and the weather.  Booking is essential.
Fionnbarra is Meitheal Mara and Cork city's Bantry longboat gig (there are six others in Ireland). It is a replica of the oldest boat in the French Navy – an admiral's barge, built in Brest over 200 years ago and now in the National Maritime Museum in Dún Laoghaire.  The original boat and crew were captured on Bere Island in Bantry Bay in 1796 after the weather foiled Wolf Tone's invasion attempt.
Meitheal Mara completed the building of Fionnbarra in 2007.  Since then, boat and a crew of 13 have travelled to Quebec for the city's 400th celebrations; have represented Cork at international contests in Morbihan, Milford Haven, Antrim and Bantry – and have been chartered by HBO for Game of Thrones!
Meitheal Mara is a community-boatyard, a registered charity, and a nationally-accredited training centre based at Crosses Green in Cork City centre. We promote and foster maritime culture and traditional skills, using boatbuilding, woodcraft and seamanship as the means to help both groups and individuals to learn, progress and develop.  We are enthusiastic about getting people out on the water, especially those who would not otherwise have the chance to do so.
Click here for more information
---
8. Night of local music, song and story in Fanad Lighthouse, Donegal
Gaeltacht Bheo Fánada presents a night of music, song, stories and craic in one of the most breath-taking venues in Ireland. Get a taste of the Gaeltacht culture of the Fanad peninsula.
Click here for more information
---
9. Cobh Library – Ceol na Mara: an evening of traditional Irish music, Cork
Call to Cobh Library and enjoy a relaxed evening of traditional Irish music played by a variety of talented local musicians, and view the Commissioners of Irish Lights' fascinating exhibition: Safety at Sea through War and Upheaval IRISH LIGHTS 1911 – 1923.
Cobh Library is delighted to play host to a wealth of talented local traditional Irish musicians this Culture Night 2016. Call in to the library and enjoy being serenaded by violin, piano, flute and guitar, while taking a stroll around our beautifully refurbished historical Arch Building. Take some time to view the fascinating historical exhibition compiled by the Commissioners of Irish Lights on display upstairs in the gallery space. Safety at Sea Through War and Upheaval IRISH LIGHTS 1911 – 1923 has been described as "[an] exhibition [that] reveals Ireland through the First World War and the revolutionary years as no one has ever seen it before… a ground breaking tale from a unique and previously untapped source into Ireland's past.". – Michael Kennedy – Royal Irish Academy Executive Editor.
Click here for more information
---
10. Bádóirí an Cladaig, Galway
The Claddagh Community Boat Club (The Claddagh Boatmen) is dedicated to the restoration and sailing of the traditional Galway work boats known as Galway Hookers. These distinctive boats are an important part of our heritage and we aim to preserve them and bring them back to their full glory as in the days when they plied the routes between the coasts of County Galway and the Aran Islands, transporting turf, seaweed, livestock and other cargo to and from all the coastal villages and towns.
On Culture Night Bádóirí an Cladaig welcome you to their workshop in Galway Docks, where you can see you can see the space where the great craft are built and renovated. You can meet the boatmen, get a guided tour of the premises and see the work taking place – a rare opportunity to get close to the ancient and beautiful sailing heart of Galway. All welcome!
Click here for more information
---
11. Culture Ship in The Claddagh – Music With Shiftwork on the Bonny Roy, Galway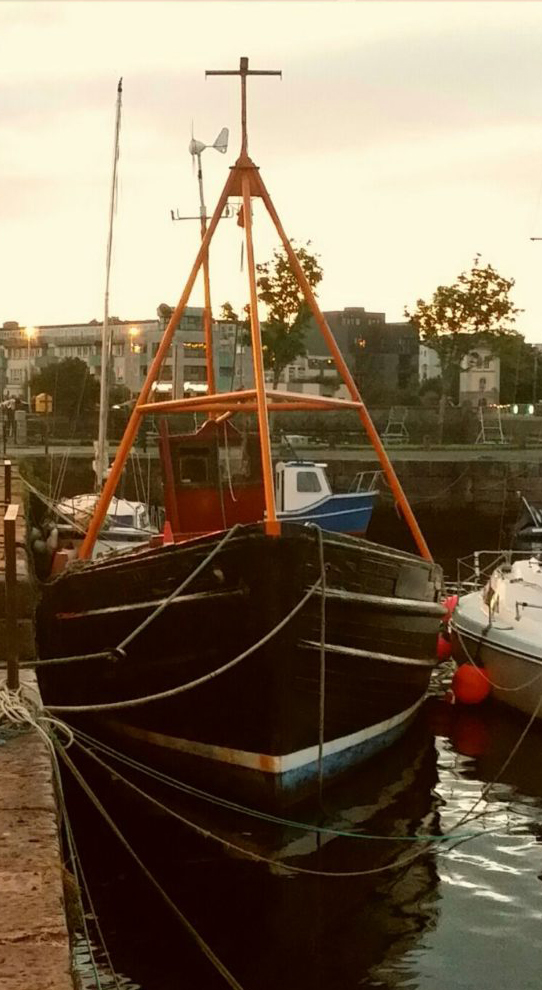 The Bonny Roy is an historic craft, built in Arklow at the legendary Tyrrell yard.The Bonny Roy now happily resides in The Claddagh, owned by Sean T Ó Sallaigh. On Culture Night the Bonny Roy presents an evening of music with Shiftwork, a ridiculously charming trio who play quirky, haunting and strangely beautiful songs. Their duelling and harmonising vocals touch on important topics such as three day rollovers, semi-perilous late night cycling and unrequited lust. Shiftwork are Susan Hurley (Attention Bébé) Vocals, Guitar, percussion; Lucie O'flynn (Téada Orchestra, Sacrebleus Band) Violin, vocals and Finn Mcgeough: Vocals, guitar.
Click here for more information
---
12. Salthill Diving Tower – The Centre Point of the Wild Atlantic Way, Galway
Salthill's big yellow diving board at Blackrock, on Salthill's famous seaside promenade has been a unique icon for the seaside village at the edge of Galway city for decades. It is the true centre point of the Wild Atlantic Way, being equi-distant from Mizzen and Malin Head. On Culture Night, 16 September 2016 we will celebrate the 'rite of passage' at the diving tower with a series of themed 'dives' to recognise the people of Galway who make great use of this wonderful attraction each day. From the hardy bunch of year-round-swimmers, to the dog-walkers, to the sit-in-the cars-newspaper-readers, to the photographers and musicians, and anyone else who cares to show up, we will showcase them all at high tide at 6pm on Friday 16 September. All are welcome. Bring Your Togs!! (and anything else you'd like to wear)
Click here for more information
---
13. Clare Island Film Festival, Clare
Culture Night newcomers, Clare Island Film Festival will host a special screening of the award winning documentary "Atlantic". This film follows the fortunes of three small fishing communities – in Ireland, Norway and Newfoundland – which are at turns united and divided by the Atlantic Ocean. In recent times, mounting challenges within their own industries, the fragile environment, and the lure of high wages for young fishermen on the oil rigs have seen these fishing communities struggle to maintain their traditional way of life.   'Best Irish Documentary' at the Dublin International Film Festival.
Click here for more information