For a really great festival, get yourself to Galway this weekend for Cruinniú na mBád (19th – 21st August). It's one of Ireland's best maritime spectacles, drawing on the regions great boating traditions and is a fantastic way to see out the summer.
Before gas and electricity came to Kinvara turf was the main fuel used for cooking and heating. The majestic Galway Hookers sailed between Connemara and Kinvara laden with this fuel as the Kinvara area had no bogs. Kinvara in turn filled the hookers with grain and produce for their return journey. A strong trade developed between the two regions using these great old cargo boats. Cruinniú na mBád was founded by Tony Moylan in 1979 as a celebration of the traditional commerce that existed between the coasts.
What is a Galway Hooker?
The Hooker is the traditional boat of Galway built of strong and hardy oak to withstand the rough seas of the Atlantic. The boats are easily recognised by their strong sharp bow and sides that curve outwards. They have one main sail and two foresails all on a single mast. It's a gaff-rigged sailing boat meaning the sail is four-cornered, fore-and-aft rigged, controlled at its peak by a pole called the gaff.
Traditionally painted black with eye-catching red sails these beautiful boats are something to behold. Along with the Claddagh ring, they have become a much-loved symbol of Galway, something unique to the county.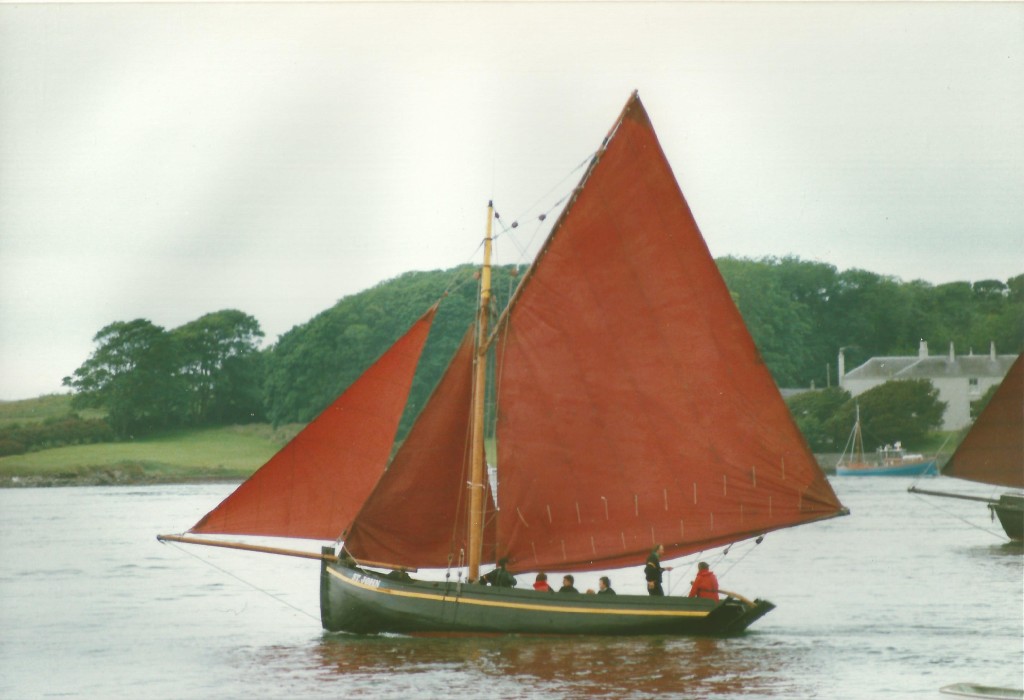 There are four types of Galway Hooker: Bád Mór (35 – 44 ft) and Leath Bhád or "half-boat" (28 ft), being the two bigger varieties, were used to transport turf across Galway bay. Gleoiteog  and the Púcán (both 24 – 28 ft but differently rigged) were used more commonly for transporting people and fishing.
While the name Hooker comes from a dutch word the exact origins of the distinctive boat is not clear. They may have originally come from Norse or Cornish designs but they have evolved today into something unique and distinctive that Galway is proud to call their own.
At Cruinniú na mBád you can see the mighty hookers in action once again as they parade around the bay. There are lots of other types of craft sailing and competing with each other and another highlight of Cruinniú na mBád is the Climin. A Climín is a 'raft' made from seaweed blocked and tied for transportation to a collection point on the shore. Seaweed harvesting was once a thriving industry along the west coast of Ireland, including Kinvara.
So for a bit of maritime magic in the west of Ireland,  Coast Monkey recommends you head to Galway this weekend for Cruinniú na mBád Festival (19th – 21st August).