Prawns, oysters, lobster or whatever seafood you love – You'll find it all at the best seafood festivals around Ireland this year.
2017 is set to be the biggest year yet so if you're planning on travelling the length and breadth of the country to taste the best of Irish seafood- we've got your covered!
We'll be keeping this list updated throughout the year with all the best Irish Seafood festivals dates.
Diaries at the ready – Start planning your 2017 seafood festival grand tour now!
---
1. Dublin Bay Prawn Howth  
17th – 19th March
First up on the seafood trail is the Dublin Bay Prawn Festival and it's a great one. Howth has tons of great restaurants that participate, and they have a stacked programme of events. Loads of stalls and family entertainment.
Whatever way you like your prawns – barbecued, whole, shelled, fried, skewered, marinated, sauced – Howth's many award winning restaurants will serve your favourite prawn dishes in bite sized portions at the food village of this year's Dublin Bay Prawn Festival, in addition to a variety of other miniature dishes.
In such a picturesque setting, make sure to get a cliff walk in as well!
Here's what we thought last year: Dublin Bay Prawn Festival
---
---
2. Connemara Mussel Festival, Galway   
28th – 30th April
Next on to the beautiful West coast for the Connemara Mussel Festival which offers a veritable feast for the senses. Originally established to promote the excellence of the mussels from Killary Harbour, the festival has grown to become a celebration of local people, food, culture and heritage and is recognised as the premier food event for Connemara attracting visitors from near and far.
Great people, great atmosphere, this is a really great one and a fantastic way to welcome the longer days!
Find out more: Connemara Mussel Festival
---
3. Baltimore Seafood Festival, Cork  
26th – 28th May
Summer is truly here and where better to spend a few days that Baltimore, West Cork, truly one of the best places in Ireland, and a fantastic spot for a festival. This three-day seafood festival is a showcase for the products of Baltimore's fishing and fish-farming industries, and for other local food-producers. Visitors have the opportunity to sample some of the best of the fish and shellfish from the seas off Baltimore, together with other produce like cheese and home-baking. There is musical entertainment in the Square every day and free shellfish is served in all the bars. The festival is held in conjunction with the Baltimore Wooden Boat Festival, making this one of the most festive weekends of the year.
Get your accommodation booked now!
For more info: Baltimore Seafood Festival
---
4. Wicklow Seafood Festival, South Quay, Wicklow Town
11th June
A celebration exciting seafood flavours, creative cooking and family fun on the Wicklow Quays. Lots of exciting activities including boat trips to Black Castle and Wicklow Head, the Pirate's Cove train, puppet shows, face painting and of course delicious seafood. The day also celebrates the birthday of local legend Sammy the Seal!
For more info: Wicklow Seafood Festival
5. Féile na Mara, the Festival of the Sea, Achill Island
1st July – 31st July
Féile na Mara, the Festival of the Sea, takes place on the gorgeous Achill Island on the Wild Atlantic Way. This is a celebration of seafood at it's best, showcasing the spectacular seafood of the Atlantic Ocean and embracing Achill's rich heritage.
---
6. Kilmore Quay Seafood Festival, Wexford
6th – 9th July
A seafood festival in Wexford with its rich maritime and fishing history is an absolute must.  Each July, Kilmore Quay, Wexford's charming and picturesque fishing village, on the south east coast of Ireland, celebrates summer with delicious seafood platters, fishing and lots of fun activities for all the family.
Kilmore Quay is a really special little town and time spent here is well spent time especially in the long Summer days!
For more info: Kilmore quay Seafood Festival
---
7. Flavours of the Foyle
22nd – 23rd July
Seafood trail, experts chefs, cooking demos this festival is all about the celebration of local food, showcasing the quality and freshness of local produce straight from the Foyle. Be inspired and try new some new cuisine at this quintessential seafood celebration!
8. Carlingford Oyster Festival, Louth
11th – 14th August
The beautiful and historic town of Carlingford has a really great festival. The Carlingford Oyster Festival offers a four day fun-filled festival for the whole family is packed with traditional children's activities including Magic Show, Face Painting, the ever popular Teddy Bear's Picnic, Free Kayaking in the Harbour, Children's Funfair & Bouncing Castles.
If you like watersports, there is so much for you in Carlingford.
For more info: Carlingford Oyster Festival
---
---
9. Valentia Island King Scallop Festival
19th – 20th August
The annual Valentia Island King Scallop Festival is a family-friendly celebration on the beautiful Valentia Island with live music, entertainment, competitions and at the heart of it the delectable scallop! The weekend will see this little mollusc been served up in a number of tasty dishes and the highlight of the festival will be the cook off and crowning or Mr King Scallop!
---
10. Dalkey Lobster Festival, Dublin
24th – 27th August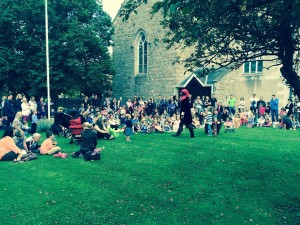 The Dalkey Lobster Fest takes place in the chilled out village of Dalkey and the festival see's a fusion of local seafood with the best of current global jazz musicians and lots of fun events for all the family to enjoy.   There are lots of free events on throughout the day. It's a fantastic weekend for all the family. So come along and enjoy some crab, lobster and all that jazz. 
For more info: Dalkey Lobster Fest
---
11. Hillsborough Oyster Festival, Co. Down  
6th- 10th September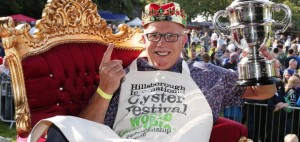 *Update – unfortunately the festival has been canceled this year but hopefully will return in full swing in 2018*
The Hillsborough International Oyster Festival is one of Northern Ireland's premier events, attracting thousands of visitors each year from across the world. Set in the historic, picturesque Georgian village of Hillsborough, Co. Down the event takes place from 6th – 10th September 2017 and visitors can look forward to a packed programme of activities, performances and eating experiences to satisfy all tastes.
Fun fair, music and gourmet food. We're there!
For more info: Hillsborough Oyster Festival
---
12. Clarenbridge Galway Oyster Festival
5th – 8th October
The perfect conditions that exist in Clarenbridge for growing and harvesting Oysters – a sheltered bay, a perfect ratio of fresh and salt water and added to this the skill and knowledge of a community who are immersed in Oyster harvesting since Roman times makes for some seriously delicious Oysters. There's so much going on here with a full programme of events, but here the Oysters are the proverbial pearl!
For more info: Clarenbridge Oyster Festival
---
---
13. Galway Oyster Festival  
22nd – 25th September
Want even more Oysters in Galway? Us too! Welcome to the oldest oyster festival in the world and the most internationally recognised Irish festival after St Patrick's Day. Deemed one of Europe's longest-running food extravaganzas, the Galway International Oyster & Seafood Festival was launched in September 1954 by Brian Collins, the manager of the Great Southern Hotel (now called Hotel Meyrick). That year just 34 guests attended the first Oyster Festival Banquet and feasted on several dozen oysters each. These days, the event is one of the biggest on Ireland's social calendar, drawing more than 22,000 visitors in 2012 who gleefully downed tons of the famous native Galway Oysters.
For more info: Galway Oyster Festival                         
---
14. Hooked Killybegs Seafood Festival
September (exact dates not confirmed)
This festival is relatively new to the seafood scene but is already paving the way to be one of the best Irish seafood festivals out there. The festival is run by the Killybegs Community and aims to showcase what the premier fishing port of Killybegs has to offer and to celebrate it's seafood, traditional seafaring and maritime heritage.
More info: Hooked Killybegs
So that's it for the best Irish Seafood festivals. If you think we've left out your favourite festival or got something to add, get in touch!
---
To get all the latest news, stories and advice to get the most out of the seafood season visit: