The Arklow Maritime Museum in Wicklow is a treasure trove of stories and exhibits showcasing Arklow's rich maritime history. We ventured down and were impressed by the range of historical maritime objects on display and we definitely recommend paying a visit.
Models of Tyrrell-built wooden boats from 1860 to 1960
Arklow's history is closely linked to the sea, from its Viking beginnings to its later development into a premier fishing port with its fine traditions of boat building. The passion the museum has for its home turf shines through and every object within the museum has been donated or loaned out by the local community, some objects even come from far flung corners of the world, brought back by Arklow sailors.
Chest of old hand tools used in traditional boat building
The museum has been in operation for over 30 years and has mounted up a vast collection of boat models, paintings, photographs and instruments, letter, log books, sketches, figure heads and so much more.
Display detailing the Arklow Fishing boats that went to rescue passengers from the RMS Lusitania 
One of the model ships in the museum, many of which were built by Arklow sailors
The staff are extremely knowledgeable and are happy to spin a yarn about Arklow's maritime history, from its shipbuilding and fishing traditions, to the first lifeboat station in Ireland, the lady mariner Kate Tyrell or the ill-fated Lusitania.
Ships wheel, binnacle and ships telegraph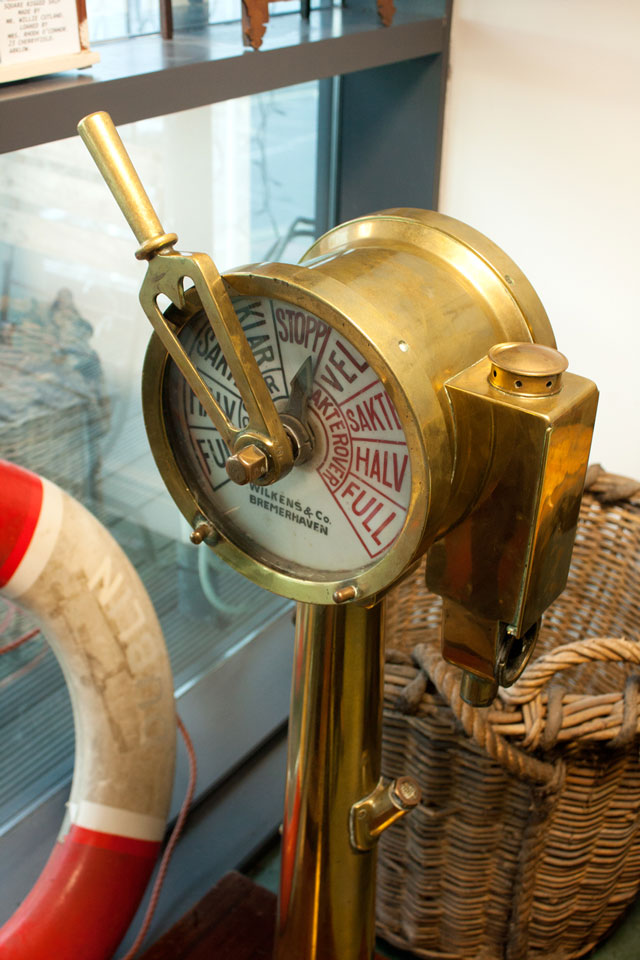 This was used for communicating orders from bridge to engine room.
Heavy Rigging Blocks and Careening Blocks

A fine range of navigational instruments
Steering Wheel from ship torpedoed in WW1
Display telling the story of the lightship Guillemot sunk on the Arklow Bank.
If you love Irish maritime history the Arklow Maritime Museum is definitely worth a visit. It's open all year around and is located in the Bridgewater Shopping Centre in Arklow. Visit their website for more information and to check out any upcoming events.