April is here and with it comes warmer weather and more opportunities to embrace the best of the coast. Lots of great events this month including celebrating our heritage, marine science and the great outdoors!
Here are our top picks of events around the coast!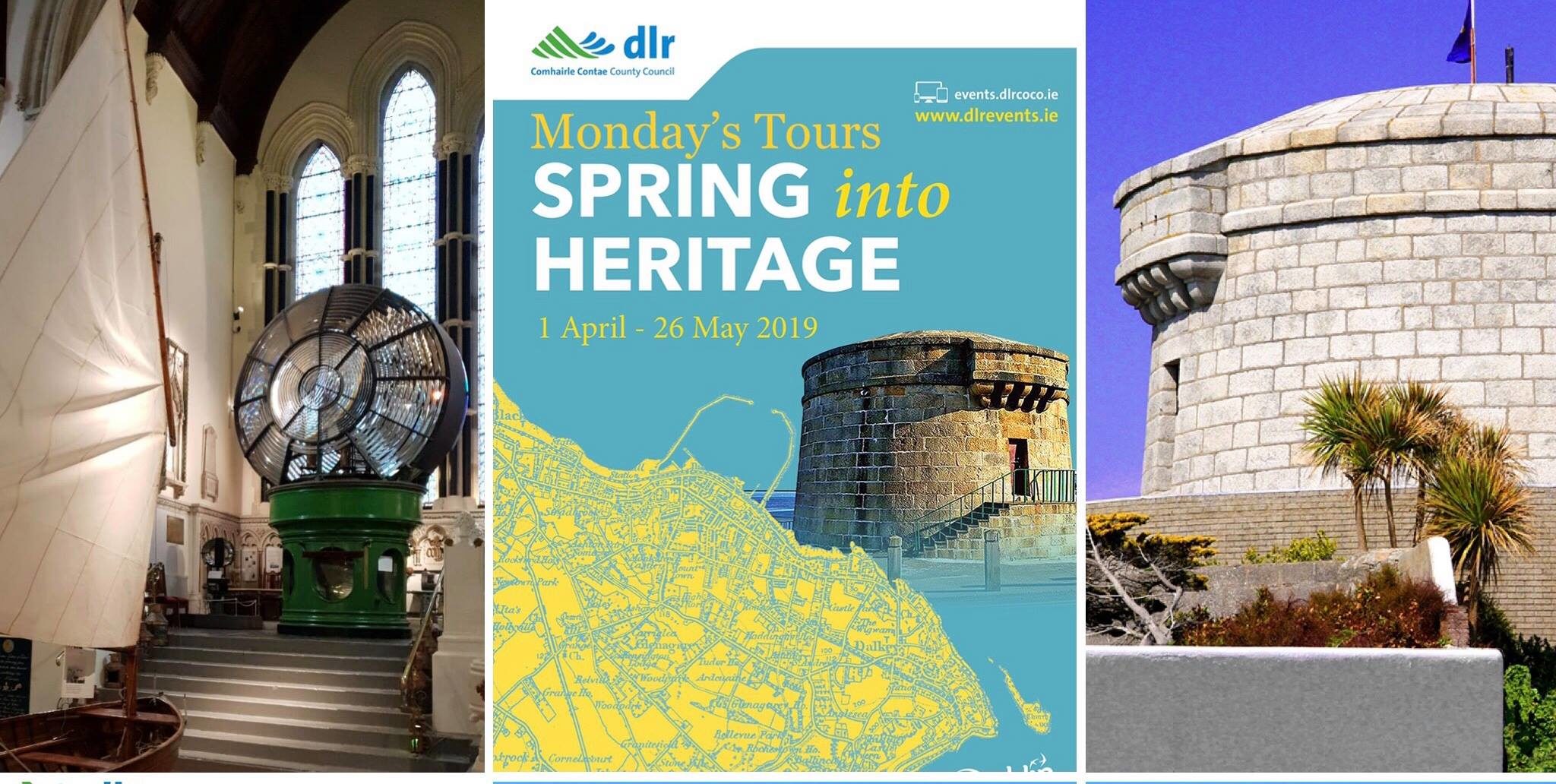 1. DLR Spring into Heritage | Dun Laoghaire-Rathdown, 1st April – 26th of May
The Spring into Heritage programme of events is a series of free guided tours run by the Heritage Office of Dún Laoghaire-Rathdown County Council. A number of sites will be offering free tours as part of the programme including the National Maritime Museum, James Joyce Tower and Dalkey Castle.
2. Coastwatch Annual Survey Results | Trinity College Dublin 5th – 6th April
The Coastwatch citizen science survey takes place all around the coast each year and aims to give an encompassing overview of the state of the Irish coast – from the biodiversity to the marine litter on the shores. The results of last years survey will take place on the 5th and 6th April with keynote speaker will be Ricardo Aguilar of Oceana. Register your place on the link below.
3. Explore your shore Seaweeds and Seashells | National Biodiversity Data Centre, Waterford 7th April
This exciting workshop suitable for beginners recorders will delve into the wonderful world of the seaweed species growing on our rocky shores, providing food for marine species and us humans too! You'll also get to explore seashells along the shore and other weird and wonderful flotsam cast up by the tide. The workshop includes an introduction to the biology of intertidal species, how to identify species in the field and a field trip to the Copper Coast shoreline.
4. The Emergency in Ireland | Bray Cualann Historical Society, Royal Hotel Bray, 11th April 
This talk by Bryce Evans will commemorate the 80th Anniversary of the start of World War Two in 1939. This is part of Bray Cualann Historical Societies regular lecture series and will take place in the Royal Hotel at 8pm and all are welcome.
5. Exhibition The Circular Revolution – Towards Zero | Culturlann Sweeney, Kilkee, Co. Clare 15th – 26th April 
A new art exhibition 'The Circular Revolution – Towards Zero' involving 12 primary schools across Clare has been designed and curated by Carmel Madigan, a professional artist and founder of the Loop Head Summer Hedge School. As part of the Explorers Education Programme in Clare, students have created unique artworks from marine plastic litter that will be on display at Culturlann Sweeney, Kilkee from Monday 15th to Friday 26th April 2019.
6. Inishbofin Island Walking Festival | Inishbofin, Co. Galway  26th April – 28th April 2019
The 2019 Inishbofin Island Walking Festival gives visitors an opportunity to walk amid stunning Atlantic coastal scenery, crystal clear waters and award-winning beaches surrounded by rich natural, built and cultural heritage. There will be a series of different walks, talks and guided tours. A great excuse to head to the west for the weekend! 
7. Inishowen Sea Symposium | Inishowen, Co. Donegal 26th – 28th  April
Inishowen Sea Symposium event is a weekend feasible for everyone from beginner to advanced paddlers. It consists of sea kayaking around the coastline of Inishowen, evening talks and demonstrations. Inish Adventures feel that the amazing coastline of Inishowen needs to be shared and enjoyed by all paddlers. The plan is to kayak and enjoy the coastline from Lough Foyle to Malin Head to Inistrahull, the most northerly island in Ireland with some of the top coaches from Ireland and the UK.
8. Dublin Community Clean-Up |  27th April 2019
This will be Dublin's biggest volunteer cleanup on our streets, canals, rivers, mountains and coastline. Clean up events will be taking place around Dublin so why not get your family and friends to be a part of the action. You can start a brand new your own cleanup in your community, or see the map and join an existing one.